If you are looking for something more than just a daily commuter, feast your eyes on the 2017 Nissan Sentra NISMO. It's a modern machine capable of providing efficient drives, no matter how long you find yourself on the road. It also comes fully equipped on the inside with modern technology and safety systems that provide peaceful drives in any city.
Looks that Excite
It's the modern era and you deserve a modern car to show off to everyone. This is easy when you get inside the 2017 Nissan Sentra NISMO. The 18-inch aluminum-alloy wheels have a sporty feel and are enhanced by the all-season tires. They give you plenty of traction for epic drives that excite. Every part on the body has a sculpted design, but not so much so that the NISMO"s aerodynamic properties are compromised.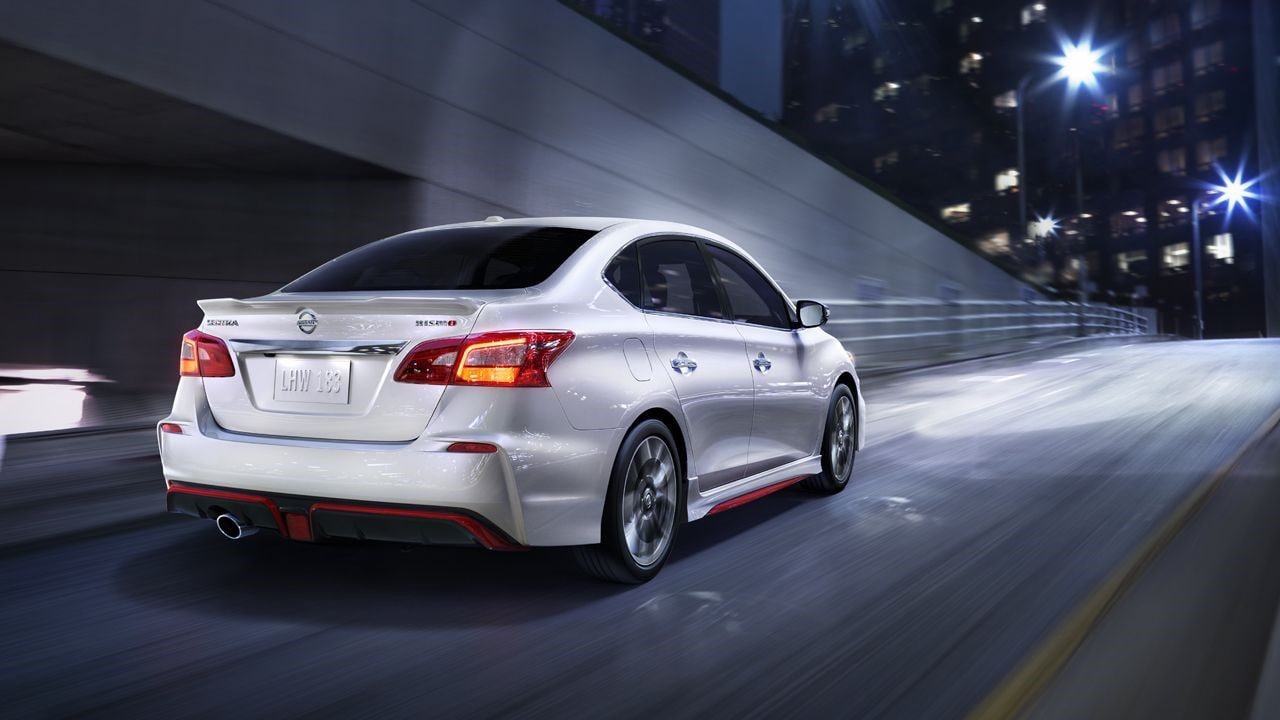 The back has an iconic vibe that sports cars are known to have. A lot of the body elements are track-inspired, so you can unleash power and speed in a whole new way. Moving into the interior, you'll get to use cockpit-like controls.
The leather-wrapped steering wheel is comfortable and stylish, while the seats have a racing-like design. Their large bolsters support you fully, no matter how fast you drive. They also have ample cushion and sports aesthetics that make getting inside the new NISMO a captivating experience. High-end materials bring sophistication to the forefront, and there are plenty of storage options to use for personal belongings.
Power and Precision
If you are looking for novel experiences, whether you are on the track or highway, the 2017 Nissan Sentra NISMO is ideal. A 1.6L DIG turbocharged engine comes standard with all models, and it provides fun drives every time. The suspension of this sedan has been re-tuned and it offers added body stiffness for controlled drives on any terrain. You can push the limits without having to worry about losing control.
It handles straightaways and corners like they are nothing, all while providing fuel-efficient drives that your wallet surely appreciates. It really offers the best of both worlds as far as power and efficiency go. Feeling the turbocharged engine behind the user-friendly steering wheel, you'll be ready for all sorts of adventures.
This Nissan is yours for the taking if you head to one of your local dealerships. The car is not just a sedan or a daily commuter. It is a machine capable of providing hours of excitement and safety for passengers inside. The 2017 Nissan Sentra NISMO is modern, visually striking, and is extremely fuel-efficient. You'll never have to want more out of a car when you trust in this Nissan.
Sources:
2017 Nissan Sentra NISMO Sedan Review, Nissan.com
2017 Nissan Sentra NISMO Sedan Review, CarAndDriver.com