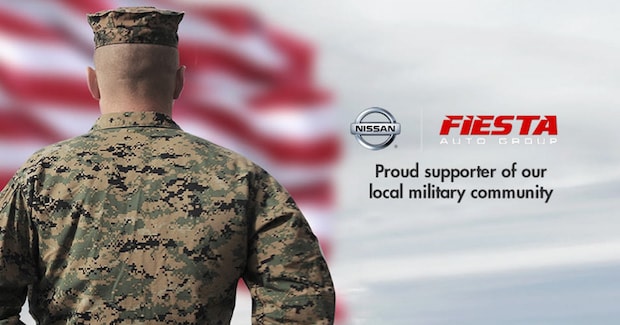 The greatest sacrifice that you can make for your country is to join the military. It is a big commitment and not one that is entered into lightly. Here at Fiesta Nissan, we have great respect for members of all the branches of the military. The least that we can do to honor those that keep us safe is offer a special discount that can be applied on top of any other promotion that is running at our dealership. The military discount at our Santa Fe Nissan dealer is our way of saying thank you for your service in defense of our country.
A Military Program That Serves the Rio Rancho area
We extend a special offer to all active military, military reserve, and retired members of the military or military reserve from the Army, Navy, Air Force, Marines, Coast Guard, or National Guard. If you qualify, then you can receive a special discount on any qualified vehicle at Fiesta Nissan. This is our Rio Rancho area Nissan dealership's military program. It's the least that we can do considering the sacrifice that members of the military make for us on a daily basis. All you need to do is bring proof of your military status, and a few other items, and you are ready to go.
We always take care of our customers and that goes double for the military personnel that choose us as their trusted car dealership and service center. If you come in looking for a brand-new car, we want to be able to help you save a little extra money with this military discount on a Nissan in Santa Fe. We always make it simple for our customers to come in and shop for a vehicle that suits their needs. And if you are a veteran of the military and are looking to serve your community in another way, then you can join the Fiesta Nissan team. We have hired many former service men and women who were interested in joining a dynamic team.
Our goal is always to provide exemplary service to the men and women who have chosen to serve our country with bravery and valor. So don't miss your chance to enjoy a special discount through our military program the next time that you are looking to buy a new car.
Feel free to visit or contact Fiesta Nissan online to find out more about our military specials. You can also give us a call today at (505) 428-7100.